Who We Are & What We Do
The Cornell University SnakeArm is a project team that seeks to design and fabricate a class of robotic arms that best resemble the strength, fluidity, precision, and dexterity of a snake by maximizing our arm's degrees of freedom and payload capacity and ensuring mechanical compliance.
Our robot is being designed with medical applications such as remote surgery and biomedical endoscopic robotics in mind.
We are currently working on the fourth generation of the robotic arm.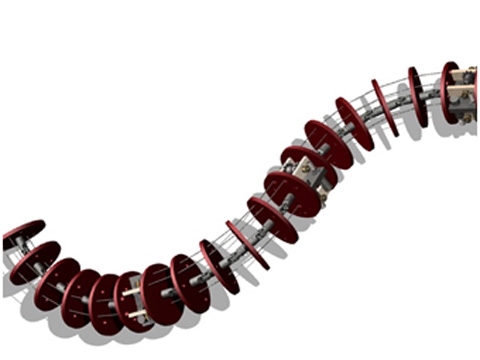 Contact Us
Mailing Address
CU SnakeArm
B62 Upson Hall
Ithaca, NY 14853
E-Mails
Team Lead: Jeff Lebovici
jdl226@cornell.edu

MechE Lead: Ricky Ishida
ci37@cornell.edu

ECE/CS Lead: Adam McCann
ajm232@cornell.edu

Business Leads: Anuj Rastogi & Eric Burel
ar493@cornell.edu
emb323@cornell.edu
Latest News
We were well received at the BOOM with people appreciating our Robotic arm as well as our progress towards the ultimate goal of designing an arm capable of performing remote surgery.
Check out the pics of the event here.
CU Snakearm at BioExpo 2009
Our mission of producing an accurate, flexible and low-cost robotic arm able to perform remote surgery works towards solving a big humanitarian crisis by enabling the best medical support to reach the less developed parts of world. Our motto and progress were well appreciated by people from academia and the medical community.